I got involved in the Bitcoin (BTC-USD) scene many years ago and even wrote a few articles here on Seeking Alpha in the early days of the cryptocurrency – it used to fall solely under the Winklevoss ETF (COIN). I have a mining operation down in New Mexico where I have fronted the money for a friend of mine to mine Bitcoin in his home. We installed several solar panels, so our costs are the cards. He is well connected around that part of the world and has a few other friends that run different kinds of operations down in New Mexico.
A few of us were talking about an article that crossed our desks regarding Metcalf's Law. Myself, I studied macro-economics and statistics. The others in the discussion were math majors, coders, and other nerdy types. Since we all have our hands in crypto in one capacity or another, it was a lively discussion… and very nerdy. I promise to tone down the nerdiness of what we concluded.
The bottom line of the discussion: Ethereum (ETH-USD) will move above $20k, given Metcalf's Law. Along with that, a few of the other currencies will follow along.
Metcalf's Law deals with network economics and helps to explain how a system is supported by the number of individuals in the system. Metcalf's Law states that the effect of a telecommunications network is proportional to the square of the number of users of the system (n²).
Here's an example: If you have two telephones you can have one connection and only one connection. But, if you have five telephones, you can have 10 connections. 12 telephones can make 66 connections.
Here is a nice visual from Wikipedia: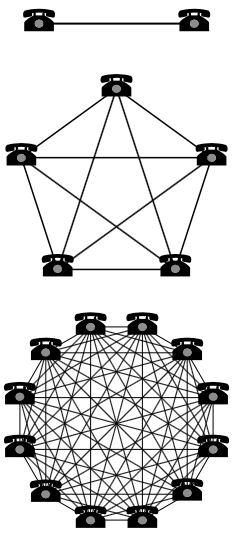 (Image Source: By Woody993 at English Wikipedia – Transferred from en.wikipedia to Commons., CC0)
The nutshell explanation of this is that the growth of networks is driven by the number of connections. More connections allow for more growth and it can be mapped out with a simple mathematical equation.
Initially, there was not much proof of Metcalf's Law. In fact, it would take 30 years for proof to show up. That proof was an analysis of European internet usage and connectivity. Researchers were able to apply the n² to show in part the proportional gains in internet usage. As well (n log n) was applied to show the proof of the application of Metcalf's Law to network economics and how the growth of the internet in Europe was mathematically mapped out.
Then, researchers applied the same principles to Facebook's (FB) growth rate. If you think about Facebook, this is an excellent example of how a company is reliant upon users, how more users would beget more usage, and ultimately how the entire system becomes ubiquitous in our lives.
When you ponder it, what if Facebook never really garnered much interest from the initial individuals? Where would it be today? Without that initial connectivity and the spread of enthusiasm, Facebook might never have garnered the momentum it needed to draw in a necessary crowd size to get it to be relevant.
These very same principles were then applied to Bitcoin, mathematically. As it turns out, 70% of Bitcoin's value can be explained mathematically by looking at its network size and the number of individuals connected within the network. A 0.7 coincidence rate is very strong, which leads us back to Ethereum.
When you look at ETH's network size, the number of connections, and trajectory of price, Metcalf's Law is being repeated once again with Ethereum. In fact, Ethereum is exceeding that of Bitcoin's movements, but this may be an application of Metcalf's Law with regards to cryptocurrencies in general. The more that people integrate cryptos into their lives, the more that cryptos are being accepted, and that growth continues to push cryptos in general. Ethereum's movements may be simultaneously both a cause and effect of the network economics of the crypto network.
And, if Ethereum actually does repeat Bitcoin's movements, Ethereum will hit $20k.
But, all of this puts thinking into a conundrum. If Ethereum actually does go up higher like it is about to do, wouldn't Bitcoin continue along with it? If there is an acceptance level of both and the number of individuals that get involved because of the price movement as well as the headlines BTC makes, wouldn't that continue to push BTC higher?
And, if so, how do you decide how much of one currency.
Bitcoin may have limitations as to how high it may go because of the number of individuals in the system.
If you need proof of this, just look at Facebook's own growth rate in the developed world such as North America and Europe. The growth rate continues to moderate compared to Facebook's initial numbers. That makes perfect sense when you think about it. There is a finite number of people living in these countries.
I think about that philosophically and I wonder how much BTC can push. The latest moves are mind-boggling and difficult to explain. Because of this, I believe diversification is something that I need to get very aggressive with.
I get paid from my mining operation down in New Mexico in BTC. I just throw it in my wallet and never really look. My friend down there does all of the dirty work of having to maintain the system. I have five homemade decks holding five cards each. Since we use solar panels, our costs are nothing, save for the initial costs for the cards and solar panels. However, my friend has not had to pay for electricity for a number of years, so that was a personal investment that paid off well.
I have traded BTC here-and-there with delta-neutral options strategies and have been able to augment my wallet size from that. But, anymore, it is not a pursuit that gets a lot of my attention. As it is right now, because of the sharp movements upward in cryptos, options prices are making that strategy cost-prohibitive.
However, when I start to think about applying the principles of Metcalf's Law to Ethereum, I think I need to start converting what I earn into ETH. It looks like Ethereum is going to go higher; much higher. It looks as if ETH will hit $20k, exactly like Bitcoin did.